Oxidizer Service
Your oxidizer or air pollution control system characterizes the important investment you have for your workplace. And in order to protect your investment, you need to make sure that it meets a regular maintenance from your personnel all throughout the operation and routine inspections from a professional oxidizer service maintenance company. This will make sure that your air pollution system will last longer and free of any damages every time it is in operation. If you follow the maintenance procedure which will be indicated below, you can help maintain your oxidizer and make it operate more efficiently cutting down expensive repairs later on while reducing downtime as much as possible which can affect the entire operation of your plant. With the help of a professional oxidizer service maintenance company, they can be able to perform routine inspections.

Even if you have been issued with a maintenance manual, doing it yourself is not a practical idea unless you have the proper training to do so. In addition to this, the exact procedures will also vary depending on the type and make of the oxidizer so it is better to allow the professionals to handle this matter for you. Routine inspections will typically involve a series of equipment check and evaluation of data recording system in order to establish the history and performance of the oxidizer. If you have an in - house maintenance staff, make sure that you have them inspect the oxidizer on a weekly basis. oxidizer service maintenance for this part will include checking of the air inlet filters to find out whether there are obstructions and dirt which needs to be cleaned or replaced if it is absolutely necessary. Also check for fan vibration during the normal operation of the oxidizer. Watch out for any abnormal sounds or a sudden increase in the levels of noise it produce. If there is a significant change in noise levels, there may be something wrong inside the system.

Checking the fan mounting bolts during your routine oxidizer service maintenance procedure will also make sure that everything remains tight. You also need to visually examine and listen for any atypical sounds during the poppet valve operation. If you know it better, valves should be able to shift smoothly and consistently in both directions. Also check the fan guards and motor guards to make sure they are securely in place. Before you operate the system, you need to make sure that all doors of the oxidizer as well as the access panels are properly latched and firmly closed. Observe all temperature gauges read-outs to verify the overall temperature operation and make sure that it is within normal ranges. Performing a regular oxidizer service maintenance is very important to ensure safety and efficiency in the operation of the oxidizer. It can also help minimize downtime. To make sure that everything is alright, employing the services of professionals to help you with your maintenance can also make sure that your oxidizer is in good shape.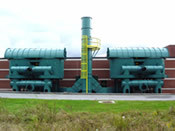 Case Study: Titleist Golf Balls (PDF)
Titleist wanted to implement air correction systems for their golf ball paint and finish production lines in Massachusetts. See why they chose Cycle Therm.



Request more information online
with our easy request form, or call
us at (570) 839-8836.