Cycle Therm is an international leader in the design, fabrication, and installation of Regenerative Thermal Oxidizers (RTOs).
In addition to the following products, Cycle Therm provides turnkey installation services, repair and refurbishment and is a distributor of Cell Stone heat recovery media and tower packing.
Our current RTO is the genesis of more than 30 years of experience
and discovery in RTO technology. With seven current RTO related patents and hundreds of worldwide installations, chances are, we
have installed a system in an application just like yours.

Zeolite rotary concentrators have the potential to save millions of dollars per year in operating costs. Click to learn more.

Minimize your operating costs and maximize operating efficiency
with Cell Stone® Ultra heat recovery media.

Cycle Therm can help make your project a success with options for a variety of projects and budgets.

For information on environmental remediation systems, please visit Intellishare Environmental, Inc., a leading manufacturer of thermal
and catalytic oxidation systems for soil and groundwater remediation.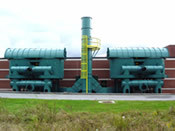 Case Study: Titleist Golf Balls (PDF)
Titleist wanted to implement air correction systems for their golf ball paint and finish production lines in Massachusetts. See why they chose Cycle Therm.



Request more information online
with our easy request form, or call
us at (570) 839-8836.