Cell Stone® Ultra
Cell Stone® Ultra ceramic heat recovery media is an exclusive, patented ultra-low pressure drop media specifically designed for use in Cycle Therm's RTOs. Its unique combination of high heat recovery with very low pressure drop results in significantly lower gas and electric usage, reducing your overall carbon footprint. Need a retrofit? It is also perfectly suited to replace your existing RTO media.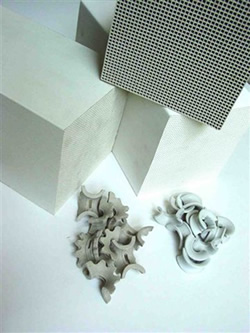 Cell Stone® Ultra's unique properties provide these important benefits:
Ultra low pressure drop – Ultra reduces the pressure required to move process flow through the heat recovery sections of an RTO by 50%; therefore, 33% less fan horsepower is required and less energy is used for operation.
High thermal efficiency – lowers fuel consumption and reduces CO2 emissions.
Less valve cycling – higher contaminant removal efficiencies mean less wear and tear on the valve system.
Individual Cell Stone® Ultra pieces are random packed, providing unrestrained ability to move as they are heated and cooled from preheat to reheat. You can bring the RTO up to operating temperature as fast as the burner system will allow without worry of thermal shock to the heat recovery media.
Cell Stone® Ultra's patented configuration carries a 2 year warranty against thermal decomposition.
For those who want more technical information, please read on:
Direct replacement for 1" saddles
Low pressure drop (0.5" per foot at 250 fpm)
High thermal efficiency (nominal 95% at 8')
30% greater compression strength compared to extruded saddles
Cell Stone® Ultra meets the following ASTM and DIN standards:
ASTM–C515 Ceramic Chemical Tower Packing
ASTM-C373 Water Absorption < 0.5%
ASTM-C279 Acid Resistance < 4% Weight Loss
DIN-51068 Thermal Shock
To learn more about Cell Stone® Ultra and Cell Stone's other heat recovery medias, please visit:
www.cell-stone.com