Regenerative Thermal Oxidizer (RTO)
Cycle Therm's current RTO is the genesis of more than 30 years of experience and discovery in RTO technology. With seven RTO related patents and hundreds of worldwide installations, chances are we've installed a system in an application just like yours.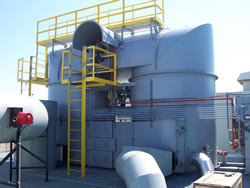 We put our experience to work for you by thoroughly understanding your process, helping to select the right equipment and optimizing the system's performance to maximize your investment.
With pollution of all types at the forefront of everyone's mind these days, we are more committed than ever to supplying a low emission, simple, reliable, energy efficient and cost effective means of cleaning tomorrow's air today.


The Cycle Therm Difference
Compare the Cycle Therm RTO with any others and you'll find these distinct advantages:
Mechanical Valve Drives – So Good, They're Patented
The heart of our RTO is the patented electro-mechanical 4-way poppet valve system. This valve and control system is designed to eliminate the continuous maintenance brought about by the endless movement and slamming of the disk in typical poppet valve RTOs.

Our proven patented mechanical valve drive system operates the flow control dampers smoothly in both two chambers and larger multi-chamber designs. The two valve discs are concurrently reversed by a common camshaft that intermittently, but consistently moves the valve disks between seats in less than 1/2 second.


The result?

Virtually no pressure spikes and contaminant bypass as the valves are tied to one camshaft and operate in unison
No leaky/erratic hydraulics that change frequency as the weather dictates
No moisture freezing pneumatic lines and cylinders
Best of all, no need for maintenance intensive pneumatic or hydraulic operators. This feature alone will substantially increase your savings by minimizing maintenance and equipment downtime.

Integrated Manifolding
The Cycle Therm RTO assembly incorporates the inlet and outlet exhaust manifolds into the RTO's overall shell configuration, rather than fabricating the typical network of bulky, exterior space-consuming manifolds. This eliminates external RTO ductwork and insulation, enabling the system to sit flat on a concrete pad without legs.

This streamlined assembly design decreases maintenance costs and creates a compact footprint that is cost effective to both manufacture and install.

Exclusive, patented heat recovery media
Cell Stone® Ultra ceramic heat recovery media is an exclusive, patented ultra low pressure drop media specifically designed for use in Cycle Therm's RTOs. The combination of high heat recovery with low pressure drop results in significantly lower gas and electric usage, as well as higher VOC destruction efficiency, making it one of the most environmentally responsible pollution control units available today.
How Cycle Therm's RTO Works

The premise of Cycle Therm's RTO design is as simple as 1-2-3:

Heat is extracted from the hot purified gas and stored in the reheat recovery chamber as it leaves the combustion chamber.
After a period of time, the inlet/outlet valves switch positions and the contaminated process gas is redirected through the hot heat sink recovery chamber (containing Cell Stone® Ultra heat recovery media), where it is preheated to within 5% of the combustion temperature before it enters the combustion chamber.
In the combustion chamber, the burner supplements the 5%, bringing its temperature to 1500° F, at which the VOC is converted to harmless CO2 and water vapor.
| | |
| --- | --- |
| Features | Benefits |
| Guaranteed 99% VOC destruction efficiency | Global emission regulatory compliance – now and in the future |
| Up to 95% heat transfer efficiency | Lowest operating cost and lower CO2 emissions |
| Patented electro-mechanical variable valve drive- no pneumatics or hydraulics and none of their related problems | Greatest reliability, lowest maintenance cost of any RTO |
| Completely modular | Quick, 3-day installation |
| Exclusive, light weight Cell Stone® Ultra heat recovery media | Lowest pressure drop, highest thermal efficiency |
| State of the art controls | Operator friendly |
| Seven industry patents | Proven leader in pollution equipment technology |
Attention Engineers! Need an RTO Technical Specification?
Download Cycle Therm's 2-chamber or multi-odd chamber RTO technical specification in both a PDF document for printing and a Word document to insert directly into your bid request.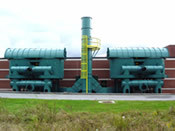 Case Study: Titleist Golf Balls (PDF)
Titleist wanted to implement air correction systems for their golf ball paint and finish production lines in Massachusetts. See why they chose Cycle Therm.



Request more information online
with our easy request form, or call
us at (570) 839-8836.