Service Descriptions
At Cycle Therm, we are experts in the design, build and maintenance of oxidation equipment. We offer the following services: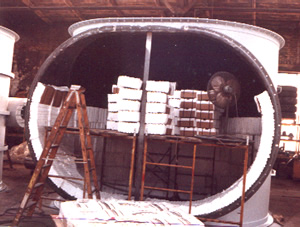 Maintenance Agreements
Keep your new or existing RTO running at
top efficiency with a long or short term maintenance agreement. Our service engineers can increase your oxidizer performance and uptime percentage.
RTO Media Replacement
Our media experts can help you replace your existing RTO media. Using Cycle Therm's exclusive Cell Stone® Ultra media can lower your operating costs by as much as 1/3 and increase the air flow capacity of your existing RTO.
Repair
As a leader in the air pollution industry with 30 years experience building and maintaining oxidation equipment, we are uniquely qualified to repair your existing system, regardless of manufacturer.
Rebuild
Some times a bad design can not be repaired. Our experienced engineers can implement Cycle Therm's tried and proven solutions used in our everyday designs. Having 30 years experience helps!
System Integration
Cycle Therm understands the oxidizer is an integral part of your plant's operation. Our clients find comfort in knowing Cycle Therm understands what it takes to make sure all aspects of the design, sizing and installation are correct to maximize plant efficiency.
Engineering Evaluation
Having the right pollution control system is crucial but many companies do not have an in-house engineering team to effectively evaluate air pollution control technology. Cycle Therm can ensure you select the right equipment up front.
Relocation Services
Want to relocate your existing air pollution equipment to a new facility? Cycle Therm can help with every aspect of the removal, reinstallation and start up.
Performance Evaluations
Upcoming compliance test? No problem. Let Cycle Therm take the fear out of meeting regulatory compliance. We have the equipment and expertise to make certain your air pollution control system will pass EPA testing.
Heat Exchange Systems
Cycle Therm designs and supplies turnkey heat exchange systems to further enhance operating economics. These systems include:
Integral low-medium waste heat steam/hot water boilers
Hot oil systems using combustion chamber hot products of combustion
Air to air RTO exhaust heat exchangers
Simple exhaust coils for hot water recovery.
Process Ductwork
Cycle Therm supplies complete RTO interface process ductwork systems engineered to handle individual process exhaust points from ovens, spray booths, print lines, sludge processing facilities and chemical vents.