Turnkey Installations
Would you like your only responsibility to be supplying power and gas to the RTO site? While each RTO system is site-specific, chances are, we have installed a system in an application just like yours. We have over 30 years experience installing turnkey RTO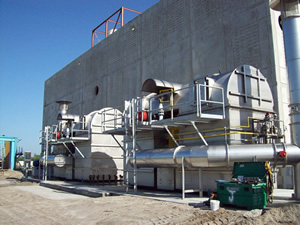 systems throughout the world.
We take complete responsibility for:
Mechanical and electrical installation
Process ductwork design, insulation
and installation
Concrete pad
System testing
Start-up

Process Ductwork
Cycle Therm also supplies complete RTO interface process ductwork systems. These systems are engineered to handle individual process exhaust points from ovens, spray booths, print lines, sludge processing facilities and chemical vents with their final combined exhaust point being the RTO.
We take complete responsibility for:
Design sizing and routing
Supply of heavy gage industrial ductwork
Field installation
Transfer dampers
Balancing dampers
Roof supports
Expansion joints
Control motors

Cycle Therm is truly one stop shopping when it comes to RTO systems.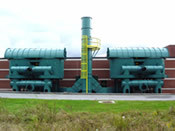 Case Study: Titleist Golf Balls (PDF)
Titleist wanted to implement air correction systems for their golf ball paint and finish production lines in Massachusetts. See why they chose Cycle Therm.



Request more information online
with our easy request form, or call
us at (570) 839-8836.