Thank you for visiting Cycle Therm's web site. We look forward to hearing from you. Please contact us in one of the following ways:
Phone/Fax:

Phone: (570) 839-8836
Fax: (570) 839-8837
Mailing Address:
Richard Greco
Cycle Therm, LLC
1677 N. DiMaggio Path
Hernando, FL 34442
E-mail Contact Form

To send us an e-mail message, please submit the following contact form. We will respond as
quickly as possible. To submit project specifications or request a quote, please submit our
product inquiry form.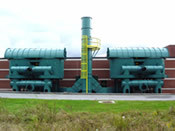 Case Study: Titleist Golf Balls (PDF)
Titleist wanted to implement air correction systems for their golf ball paint and finish production lines in Massachusetts. See why they chose Cycle Therm.



Request more information online
with our easy request form, or call
us at (570) 839-8836.