Cycle Therm is an international leader in the design, fabrication, and installation of Regenerative Thermal Oxidizers (RTOs). In addition, we offer the following services:
Would you like your only responsibility to be supplying power and gas to the RTO site? We have over 30 years experience installing turnkey RTO systems throughout the US and Europe.

Would you like to free yourself from RTO maintenance? Looking to increase system uptime or efficiency? Rebuild or relocate your RTO? Cycle Therm can help.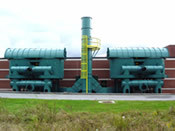 Case Study: Titleist Golf Balls (PDF)
Titleist wanted to implement air correction systems for their golf ball paint and finish production lines in Massachusetts. See why they chose Cycle Therm.



Request more information online
with our easy request form, or call
us at (570) 839-8836.