Cycle Therm designs, manufactures and installs regenerative thermal oxidizers
(RTOs) for the destruction of VOCs, HAPs and odorous emissions.

Our current RTO is the genesis of more than 30 years of experience and discovery in RTO technology. It embodies our operating philosophy to maintain simplicity in the design and reliability in the performance.
Cycle Therm currently holds seven RTO-related patents which have been used worldwide for hundreds of applications. These patents, as well as the core of our experience, are in the design of superior electromechanical valve drive systems for both two-chamber and large multi-chamber RTO designs.
With pollution of all types at the forefront of everyone's mind these days, we are more committed than ever to supplying a low emission, simple, reliable, energy efficient and cost effective means of cleaning tomorrow's air today.
The Cycle Therm Difference
Compare the Cycle Therm RTO with any others and you'll find these distinct advantages:
Patented electro-mechanical valve and drive system
Our valve drive is the most trouble free and lowest maintenance valve and drive system available today. Unlike other RTOs which feature problematic pneumatic or hydraulic valve systems, the Cycle Therm RTO features a simple, electromechanical valve and drive system, providing years of trouble-free continuous service.
Exclusive, patented heat recovery media
Cell Stone® Ultra ceramic heat recovery media is an exclusive, patented ultra low pressure drop media specifically designed for use in Cycle Therm's RTOs. The combination of high heat recovery with low pressure drop results in significantly lower gas and electric usage, as well as higher VOC destruction efficiency, making it one of the most environmentally responsible pollution control units available today.
Integrated Manifolding
The Cycle Therm RTO assembly incorporates the inlet and outlet exhaust manifolds into the RTO's overall shell configuration, rather than fabricating the typical network of bulky, exterior space-consuming manifolds. This eliminates all external RTO ductwork and insulation, enabling the system to sit flat on a concrete pad without legs.

This streamlined assembly design decreases maintenance costs and creates a compact footprint that is cost effective to both manufacture and install.

Richard Greco – Founder
Richard Greco has been designing thermal oxidizers since 1965, with an emphasis in RTO design since 1978. An innovative entrepreneur, Richard was the founder and former president of Huntington Energy Systems and has published many articles and papers regarding RTO design.

Our Design Creed
Over the last 30 years and hundreds of installations, we've learned a thing or two about RTOs. Every day, guided by the following design principles, we put our experience to work to help our clients succeed. Read more about our design creed »

Industries Served by Cycle Therm
Adhesive Coating
Aerospace Painting

Air Strippers

Automotive

Bakeries — Food Processing

Chemical Processing

Fiberglass/Composites

Flexographic Printing

Flexible Packing

Graphic Arts

Laminating/Treating

Metal Decorating (Coating)

Microelectronics

Paint Finishing

Plastics/Expanded Foam

Pharmaceuticals

Pulp and Paper Processing

Rotogravure Printing

Spray Coating

Soil Remediation

Tape Coating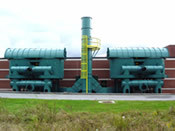 Case Study: Titleist Golf Balls (PDF)
Titleist wanted to implement air correction systems for their golf ball paint and finish production lines in Massachusetts. See why they chose Cycle Therm.



Request more information online
with our easy request form, or call
us at (570) 839-8836.