Used Oxidizer
Regenerative thermal oxidizers or RTOs are mainly used to manage a variety of air polluting compounds typically found in emissions from various industrial processes. The technology of regenerative thermal oxidizer is widely accepted and this type of technology is very successful in most plants, which operate a trouble-free for a long period of time. This is one of the most important equipment any industrial plant operating in large scale must have and since it is not cheap to obtain such installations, it is more practical to purchase a ed oxidizer from other companies who no longer this type of device. Regenerative thermal oxidation technique is a process used to capture and maintain the temperature required to oxidize air pollutions common to large factories. The polluted compound is infused into the heat recovery compartment containing a ceramic media.

The emission flow is preheated to temperatures similar to that of the combustion chamber. Using lower VOC applications, the fuel burner will help maintain the temperature to more or less one thousand four hundred fifty degrees Fahrenheit in order to complete the oxidation process. Even with a used oxidizer, plants can still complete the process for a much longer period of time by implementing a rigorous maintenance on the equipment. You have to remember that this is not a brand new equipment and this has been subjected to a much worse conditions. The possibility for wear and tear is always possible but with proper maintenance, you can still prolong the life span of the equipment and save tons of money on repair expenses. There is no doubt that an regenerative thermal oxidizers play an important role for keeping the air in the workplace clean and free from any pollutants as well as for recycling the heat energy which contributes significantly for the reduction of operational expenses.

And while investing in brand RTOs can be expensive, a ed oxidizer will do perfectly and still be able to perform its basic duties. Buying pre - owned RTOs will help companies save money compared to buying brand new ones and as long as you purchased it from a seller who specifically knows how to handle such equipment, there is big chance for you to purchase equipment that will do just fine on your workplace. So if you are seeking to buy a Used oxidizer, all you need is go online and visit websites of companies that specializes on installation of RTOs. This is the perfect place for you to find a pre - owned oxidizer at an affordable price. Pre - owned does not mean it is malfunctioning. There are lots of reasons why previous owners would decide to sell their RTOs and seldom would they sell oxidizers that have seen better days. So if you want to save money on industrial oxidizers, your best chance of finding an affordable unit is online. Used regenerative thermal oxidizers are the perfect choice if you do not have the budget to purchase a brand new one.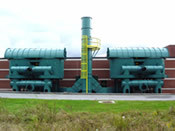 Case Study: Titleist Golf Balls (PDF)
Titleist wanted to implement air correction systems for their golf ball paint and finish production lines in Massachusetts. See why they chose Cycle Therm.



Request more information online
with our easy request form, or call
us at (570) 839-8836.