Used RTO
A used RTO can be bought as is or it can be refurbished prior to purchase. This air pollution control equipment is necessary in order to comply with the Environmental Protection Agency's standards for emissions controls regarding industry. Low pollution emissions also gives your company a better image within the community. An environmentally friendly company will be a good neighbor. A used RTO is far less costly than buying a new regenerative thermal oxidizer. The costs of new units can be crippling to small and medium sized businesses. The sticker shock alone is enough to send them looking for as is or refurbished regenerative thermal oxidizers for sale. Catalytic and thermal oxidizers can also be bought new or used. A used RTO is a fraction of the cost of a new regenerative thermal oxidizer. It can destroy VOCs, HAPs, fumes and odors up to 95% to 99% depending on conditions.

These emissions controls will keep your company out of trouble with the surrounding communities as well as the Environmental Protection Agency. A used RTO can be used in a variety of industries. Paint spray booths utilize this technology as well as paint and coatings manufacturers. The also have uses in amine treater off gas, ethanol plants and are used in a variety of chemical processes. The companies that sell new and used regenerative thermal oxidizers will be familiar with your particular application and will be able to help you select the best unit for use with your particular application. A used RTO can have an excellent heat recovery rating – as high as 95% of the heat is able to be recovered in these systems. VOC destruction is 95% to 99%. This is as good as it gets, even for a new regenerative thermal oxidizer. As is and refurbished regenerative thermal oxidizers are far more cost effective, but they can have as good an environmental record as the new models.

A used RTO with ceramic has incredible low pressure drop and is very cost effective regarding power use. You can greatly reduce your company's power bills with an efficient ceramic regenerative thermal oxidizer that is efficient at using power. This is another environmental benefit to your company's credit. A used RTO that has been properly refurbished has also been fully inspected at a number of critical points to the operation of the equipment. They can be extremely reliable and require very little maintenance. This will save you additional money, as down time is extremely costly at these industrial work sites. Missed time means lost money in business and industry. A used RTO that has been properly refurbished will need few repairs. Any way that you can lower costs in benefits to improve the bottom line is well worth the effort. You can find companies that sell new, as is and refurbished regenerative thermal oxidizers online. Most companies have experts who are familiar with these processes and the needs of people in particular industrial situations. They will be able to advise you about the best unit for your needs.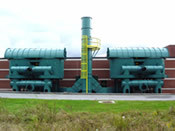 Case Study: Titleist Golf Balls (PDF)
Titleist wanted to implement air correction systems for their golf ball paint and finish production lines in Massachusetts. See why they chose Cycle Therm.



Request more information online
with our easy request form, or call
us at (570) 839-8836.