Used Thermal Oxidize
If you are in need of a thermal oxidizer but you have budget considerations in mind, consider a used thermal oxidizer to meet your needs. There are a number of units available that will work for your application while keeping you within your budget range. They have many of the design features of a new thermal oxidizer without the large price tag. A used thermal oxidizer will improve the air quality for people and the environment, just like a new unit does. You are, in a sense, recycling an old product. These thermal oxidizers are designed to efficiently remove pollutants out of the air. Such pollutants include VOCs and HAPs. A used thermal oxidizer can be used for applications such as paper processing plants, pulp processing plants, the pharmaceutical industry, plastic manufacturing, paint finishing, microelectronics, laminating, metal coating, graphic arts, fiberglass manufacturing, chemical processing plants, bakeries, the automotive industry, the aerospace industry and many more.

A used thermal oxidizer can be low maintenance and require very little service. As a further environmental benefit, these thermal oxidizers can be very thrifty users of gas and electric power. This will improve the bottom line of your business while keeping your company as eco friendly as possible. Contamination of the air, water or soil is far more expensive than having a quality system in place to prevent these accidents. A used thermal oxidizer can eliminate the huge fined and penalties imposed by the government if a large pollution event occurs. These events are costly to the company both in monetary losses as well as the company's reputation. Companies with a good environmental record have better public relations records than companies who disregard the environment and environmental policies. A used thermal oxidizer can be found through reputable companies over the internet. These companies have the experience it takes to meet specific industrial needs.

It is likely that they will have the oxidizer you need for your particular application. These same companies also sell new thermal oxidizers to meet the needs of business, industry and agriculture. A used thermal oxidizer purchased from a company with knowledge and experience in this area can advise you on how to save money on the thermal oxidizer that meets your company's specific needs. There are units available that have up to 95% heat recovery and up to 99% removal efficiency. A used thermal oxidizer may not be that many years old, meaning it has quite a life span left ahead. It can meet your company's needs for many years to come. There are forced draft units available. Turkney installations are also available from the same company. They can help you reduce your company's down time and increase the efficiency of the thermal oxidizer. Go online to view all of the products and features available on these thermal oxidizers. You can read about the products and services they offer as well as contact customer service for sales or other questions. Whatever your particular needs are, they have probably dealt with a similar situation.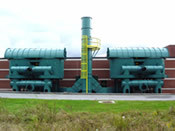 Case Study: Titleist Golf Balls (PDF)
Titleist wanted to implement air correction systems for their golf ball paint and finish production lines in Massachusetts. See why they chose Cycle Therm.



Request more information online
with our easy request form, or call
us at (570) 839-8836.