Zeolite VOC Rotary Concentrator
Are you looking to reduce your operating costs? Do you have a high volume airflow to treat from your industrial process?

A zeolite VOC rotary concentrator combined with a Cycle Therm regenerative thermal oxidizer (RTO) significantly reduces operating costs in applications with high volume air streams. Who doesn't want to save money? Depending upon your process, the cost savings potential can be millions of dollars per year.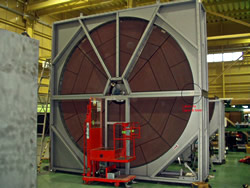 How is this possible? The zeolite rotary concentrator uses temperature swing adsorption to remove VOC from the high volume air flow. The concentrator delivers the VOC to a smaller or 'concentrated' process stream, which in turn is fed into the final oxidation treatment solution (typically an oxidizer).
Because a rotary concentrator can reduce the air flow volume by as much as a 15:1 ratio, the final oxidation treatment (RTO) required is much smaller, therefore, greatly reducing ongoing operating costs.
Which processes are suitable for a rotary concentrator?
Adsorption takes place at low temperature, typically close to ambient, and desorption at elevated temperatures between 360 and 420º F.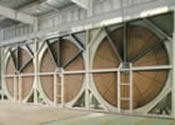 Because rotary concentrators use adsorption, to be suitable for this operation, the process releasing the VOC into the air should operate at close to ambient temperatures or somewhat higher. The air stream should be generally less than about 100º F, although some applications run at 120º F without cooling.
The boiling point of the VOC should be above ambient temperature, and in practical terms, less than around 400º F. If higher, the concentrations must be very small.
The VOC concentration in the inlet stream should be from 0 to around 1.5 gram per cubic meter air (0-3% LEL). The lower the inlet concentration, the higher the concentration factor can be. At the low end, 15:1 is feasible and at the high end about 5:1. Above the 15:1 concentration factor, there is too little energy in the desorption stream.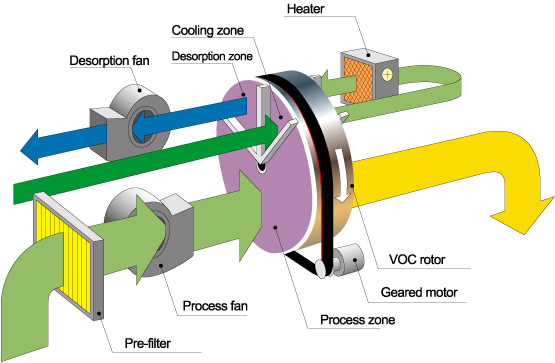 Typical industry and applications for the rotary concentrator:
Automotive Paint Systems

Aircraft Paint Systems

Furniture Manufacturing

General Industrial Paint Finishing

Semiconductor Manufacturing

Polyester Resin Glass Fiber Lay-up

Artificial Marble Manufacturing

Gravure Printing

Flexographic Printing

Paint Manufacturing

Tape Manufacturing

Ship Building and Repair