Animated Schematic of an RTO
See How an RTO Works! View our animated RTO schematic below.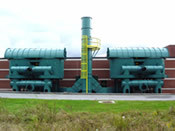 Case Study: Titleist Golf Balls (PDF)
Titleist wanted to implement air correction systems for their golf ball paint and finish production lines in Massachusetts. See why they chose Cycle Therm.



Request more information online
with our easy request form, or call
us at (570) 839-8836.